Missed out on SIGGRAPH 2018 in Vancouver? Here is a quick recap of our presence at the show.
The exhibition floor opened up on Tuesday, August 14th. We kicked off Tuesday with the inaugural AWS Cloud Tech Talks at SIGGRAPH. Bringing together our customers, partners, and industry experts, the full-day track presented the opportunities and innovation available with a cloud-connected studio via informative sessions.
Highlights of the track included Chris Bond, founder of Thinkbox Software and currently Director Product Management Amazon EC2, who discussed how our customers are taking advantage of the cloud to scale their studio. We welcomed our customers Mikros Animation and Milk Visual Effects to talk about how they scaled up their render capacity for feature film projects. We also featured a session with our partners Teradici and Sohonet on running virtual workstations on GPU for VFX workflows.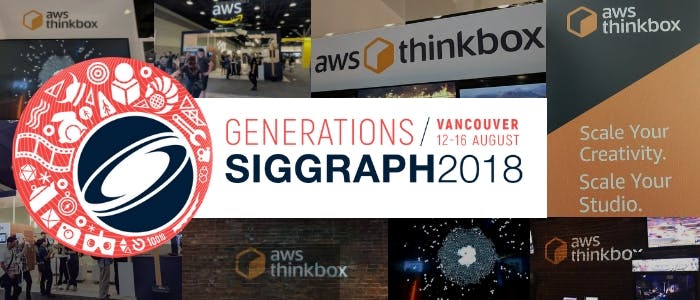 Our booth, which was the AWS booth, included demo stations that featured rendering with Deadline 10 with partners such as Redshift and Autodesk Arnold, hands-on virtual workstation demos for VFX workflows, storage solutions with our partners Weka IO and Qumulo, VR with Amazon Sumerian, and Amazon Game Tech. Additionally, we hosted Territory Studio's hypnotic interactive installation "Life at Work," which presented an animated visualization of their London studio rendering pipeline.
And who could forget the party? We hosted a cocktail event on Tuesday at Cinema Public House with a couple hundred friends. We really enjoyed chatting with those who were able to make it out. And the pinball was fun too.
In product news, we were delighted to announce that Isotropix Cnode for Clarisse had joined the Thinkbox Marketplace for per-minute licensing, and that Luxion Keyshot is coming soon.
A big thank you to our presenters, our partners, and everyone else that could join us to make SIGGRAPH 2018 a memorable one. Check out our coverage of SIGGRAPH 2019 here.