Deadline Offers Stability Across Realtime UK's Stunning Smite Cinematics
Multiplayer Online Battle Arena games – commonly known as MOBAs – have carved out a considerable niche in the gaming industry over the past several years. 
The genre, in which competitors seek to annihilate the opposing team using whatever strategy necessary, has amassed millions of players and cemented e-sports as a popular pastime the world over. Tournaments are watched by hundreds of thousands of fans and multi-million-dollar prize pools await the victors.
Smite, released in 2014 and developed by Hi-Rez Studios, is one of the major players on the MOBA scene. With more than 20 million players across both computer and console systems, it has established a vast and engaged audience. 
You need only watch the 'To Hell & Back' cinematic trailer to get a feeling for why. Beyond its compelling and strategic online gameplay, Smite has built out a vibrant world of characters and action, charged with colour and crackling with energy.
Crafted by RealtimeUK, the four-minute CGI cinematic spotlights an epic battle between six heroes, each inspired by a different mythological deity, each with their own distinct personality. The action is fierce and choreography beautiful, all of it tied together by gorgeous renders that pulse with vitality.
Production on the trailer was a significant undertaking – one that required collaborative work across multiple disciplines at the studio. Although those renders required intricate work across a large shot-count, RealtimeUK could count on Deadline to ensure everything was delivered on time. James Kirkham, Lead Generalist/Lighting TD at RealtimeUK, explains how:
"Using Deadline's pool system, we were able to divide the render farm between artists, so everyone was able to see at least a part of their shots quickly. This required no extra render wrangling, as Deadline is smart about how it uses resources. Jobs finish faster and more machines free up. 
"The every Nth Half faster refine option is really nice here, as it fleshes out a shot very quickly, then the blanks just fill in. This means composite artists can begin work across a shot much sooner than if they were using traditional linear methods."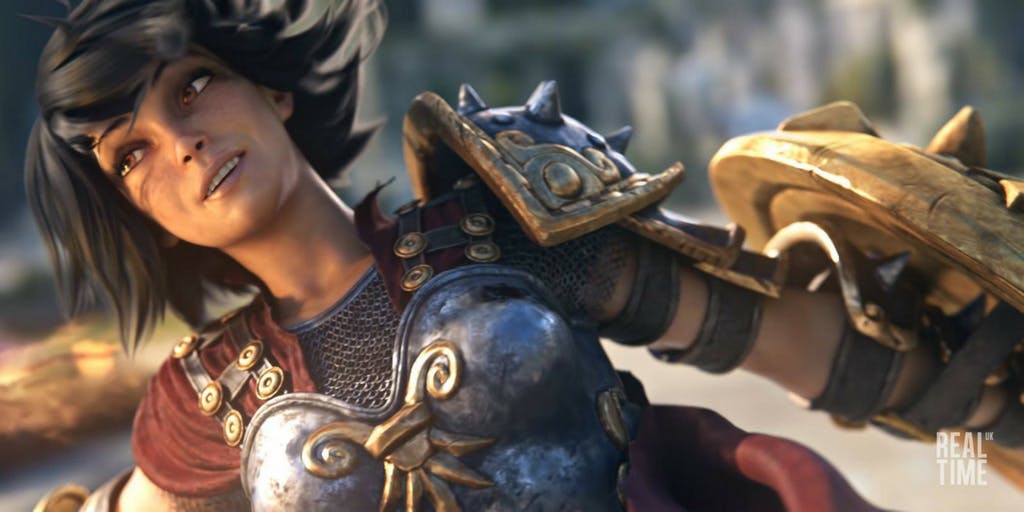 Heavenly work
RealtimeUK has built a reputation as a go-to studio for cinematic trailers, capturing the essence of combat, characters and complex game experiences. The team has produced similar videos for titles like Dreadnought and Dropzone, as well as War Thunder, World of Tanks, and Rare Replay.
'To Hell & Back' isn't RealtimeUK's first crack at the massively popular MOBA game – the studio also crafted Smite's impressive 'Battlefield of the Gods' trailer in 2015, when the game was still growing its player base. The trailer made such a huge splash with fans new and old that developer Hi-Rez Studios was prepared to enlist RealtimeUK's talents for even bigger aspirations.
 
"As soon as we finished the first trailer, they were already in talks about getting the second one on, because of the amazing response they received," says Kirkham.
Released one year later, 'To Hell & Back' burst onto the scene, revealing a significant evolution in visuals over the first trailer, spotlighting the varied combat styles and characteristics of each fighter as they clash in a ballet-like battle. 
Across the 3.30 minute trailer, we witness swords swinging, walls of ice shearing upwards from the ground and sizzling lava cascading down around the combatants. It's everyday stuff for players of Smite, but delivered through the sumptuously rich renders produced by the RealtimeUK team. 
What's really impressive are the characters themselves: they're fluid and lifelike, animated with raw yet graceful physicality. RealtimeUK used motion capture for timing and basic movement, then augmented the animation with keyframing to imbue each hero with their own distinctive style. Meanwhile, video reference was used to bring a sense of emotion to their expressions.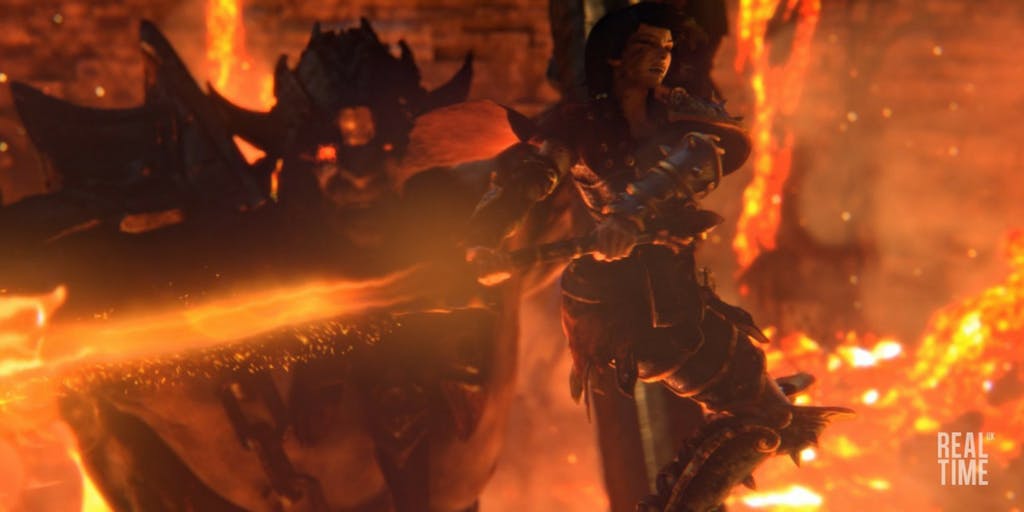 Using technology that works
'To Hell & Back' spotlights six characters, each immaculately constructed and featured heavily within the large, sprawling environment – and accompanied with a cascade of simulations for water, lava, and more. The trailer is suitably epic, but with that scale came challenges.
 
"We wanted everything to feel as close to reality as possible, so we had to develop techniques that would enable everything to fit through the renderer," explains James Kirkham. "We had to split everything out a lot, as we just couldn't fit it into memory back then. It was a challenge, but a fun one!"
Alongside various optimization techniques, such as chopping up shots to push them through the renderer, Deadline kept the RealtimeUK team's processes in check by giving plenty of statistical feedback. RealtimeUK were able to monitor the render times and ram usage per job, easily spotting problem files and marking them as bad. Meanwhile, other render jobs can continue in the background, so no time is wasted white our artists optimise problem scenes. 
For Kirkham, Deadline's solutions are critical for allowing his team to focus on creativity and deliver to the highest level, without having to worry about the impediments and bottlenecks that are presented by technology. Some render solutions require a server to always be running, which is likely to crash as projects ramp up. Deadline enables unobtrusive reliability. 
Previously, RealtimeUK were reliant on a lightweight solution to manage rendering loads. Upon joining the team, Kirkham persuaded his new studio to make the switch – something that changed the game for RealtimeUK.
"The more jobs we put into our former render management system, the more unstable it would become, resulting in all renders failing," recalls Kirkham. "This tended to happen at the more crucial end of a project. Our former solution had no system to restart itself either, which meant someone was required to monitor jobs around the clock, otherwise we could lose a lot of render time."
RealtimeUK had to constantly restart the server and manually complete tasks with nodes. Now, Deadline's mass command option allows the team to control multiple nodes from a single workstation. "Deadline really clears up the time artists were forced to waste managing the render farm," confirms Kirkham.
"After two months of real problems with our previous render solution, I convinced RealtimeUK to buy Deadline," Kirkham adds. "It's just fantastic. It does exactly what you need and doesn't get in the way. With Deadline, we can simply get on with the fun thing we all enjoy doing!"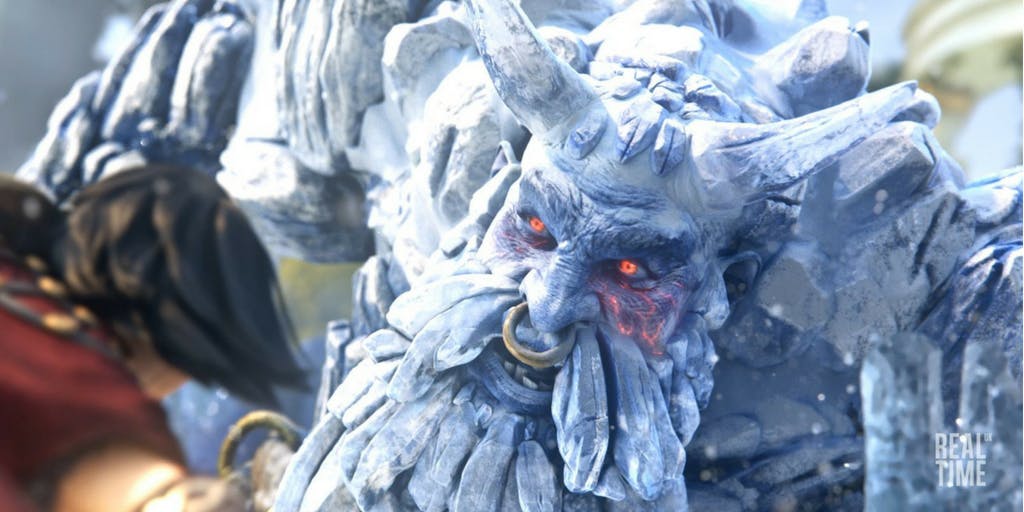 Stability drives creativity
Realtime UK renders with V-Ray on its local farm and uses a pool system to divide up nodes for tackling large or multiple projects. "That does a pretty good job out the box," says Kirkham, "obviously there are times when not everything can fit into a pre-defined solution. But there are plenty of overrides that allow us to easily manipulate it and get jobs through in the order we want."
While RealtimeUK began with a standard Deadline installation, the studio has augmented the software as they've grown more comfortable with it. One enhancement that's made a big difference is a central repository for V-Ray plugins, making it easy to roll back to a past version if required.
 
The studio's favorite Deadline feature is the reliability it brings to processing, especially when tackling large jobs. There's no uncertainty around whether or not render jobs will complete – Deadline ensures they get done. By redistributing resources to where they are most needed, and prioritising jobs according to user specifications, Deadline keeps all renders on track. Even when at full capacity.
 
"Stability is the most important thing," affirms Kirkham. "If it can't do anything else, that's the one thing a render solution needs to do. You want to come in and know your work is getting done. With Deadline managing hundreds of tasks across the farm without issue, artists can spend more time creating and less time with technical debugging, translating into a huge productivity boost."
 
"With our previous setup, I'd come in on Monday and I wouldn't know if I had any renders or not, because the software had probably crashed," he continues. "You don't experience that with Deadline. You know your renders have gone through. And with mobile view and remote work capabilities, you can monitor it all the time. If anything does go wrong, the alerts will let you know – but that really doesn't happen."
Real growth ahead
As resolution requirements have increased, so too has the size of RealtimeUK's render farm. The studio projects further investments in hardware, memory, storage and talent to stay ahead of the curve. 
"The biggest requirement increase has been memory, and the expansion needed on memory to fit everything in," says Kirkham. "Everything's meant to get quicker, which lets you push the quality more, so in a sense everything just gets slower. It's a weird paradox!"
 
Deadline's expandability means the studio will have no trouble adding further nodes as complexity increases, whether they choose to stick with a local farm or implement cloud rendering – something that at the time of writing RealtimeUK is just starting to seriously consider.
 
The Smite cinematic reveals that the studio is capable of creating incredible-looking wotime and time again. Beyond the several million trailer views on YouTube, they've also received industry recognition for the trailer: Will Eades won for best character animation at last year's Manchester Animation Festival.
 
No matter how large the studio grows in the future to accommodate its many upcoming projects, it will always have Deadline to help them keep their render needs under control.
 
"Anyone that needs to get heavy rendering done with lots of machines, and wants something that's reliable and easy to use for artists to use, then Deadline should be your choice," Kirkham concludes. "Nothing else comes close."