A decade in the making, Pixel Cartoon draws hundreds of volunteers, and Deadline, under one banner.
Directed by Cinzia Angelini, Mila is a 3D animated short film produced over the course of a decade by the combined efforts of artists from studios across the globe. The production has resulted in a short that matches the visual quality of high-end feature films. But beyond the artistry of the animation, the core story message regarding children in wartime stands out as its defining feature.
Gaining sponsorship and support from AWS Thinkbox, Autodesk, Side FX, and other companies in the computer graphics business, the film's poignant message about the effect of war on child psychology has captured the imagination of over 350 artists, all working to create the picture. Pixel Cartoon, the film's core VFX studio, teamed up with volunteer artists and students from around the world, with the renowned VFX studio Cinesite volunteering artists to complete the final stages of production.
We spoke with the film's director, Cinzia Angelini, as well as VFX Supervisor and Pixel Cartoon founder, Valerio Oss, about the inspiration for Mila's story, the message, and how Pixel Cartoon used AWS Thinkbox Deadline to manage its on-premises rendering.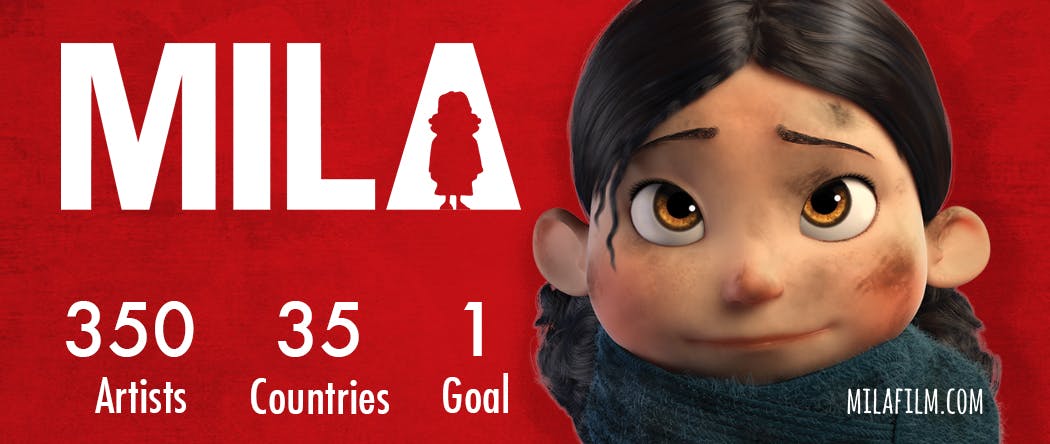 Story
Set in Trento, Northern Italy during the mid-1940s, the animation's narrative was drawn from first-hand accounts passed down by Cinzia's mother who grew up in the city as it underwent a bombing campaign during WW2. Using her mother's experiences, the film attempts to pay homage to the many child victims of war across the world, shining a light on the psychological trauma these events cause. Cinzia opted to create the animation without any dialogue, using sound and art to spread a universal message.
"At the heart of the film is my desire to depict a story I heard from my mother growing up. My mother is originally from Trento and it suffered heavy bombing in 1943. The extent to which it impacted her as a child, and as an adult, psychologically, has made a real impact on me," explained Cinzia. "As a result, children's psychology during war has always been a concern that touches me."
The film's important message served as an inspiration to many of the artists that joined the project, as Cinzia explained: "When artists were asked to volunteer on a project, they were really attracted by the powerful message. The film is set in 1943, but its message is still so important today."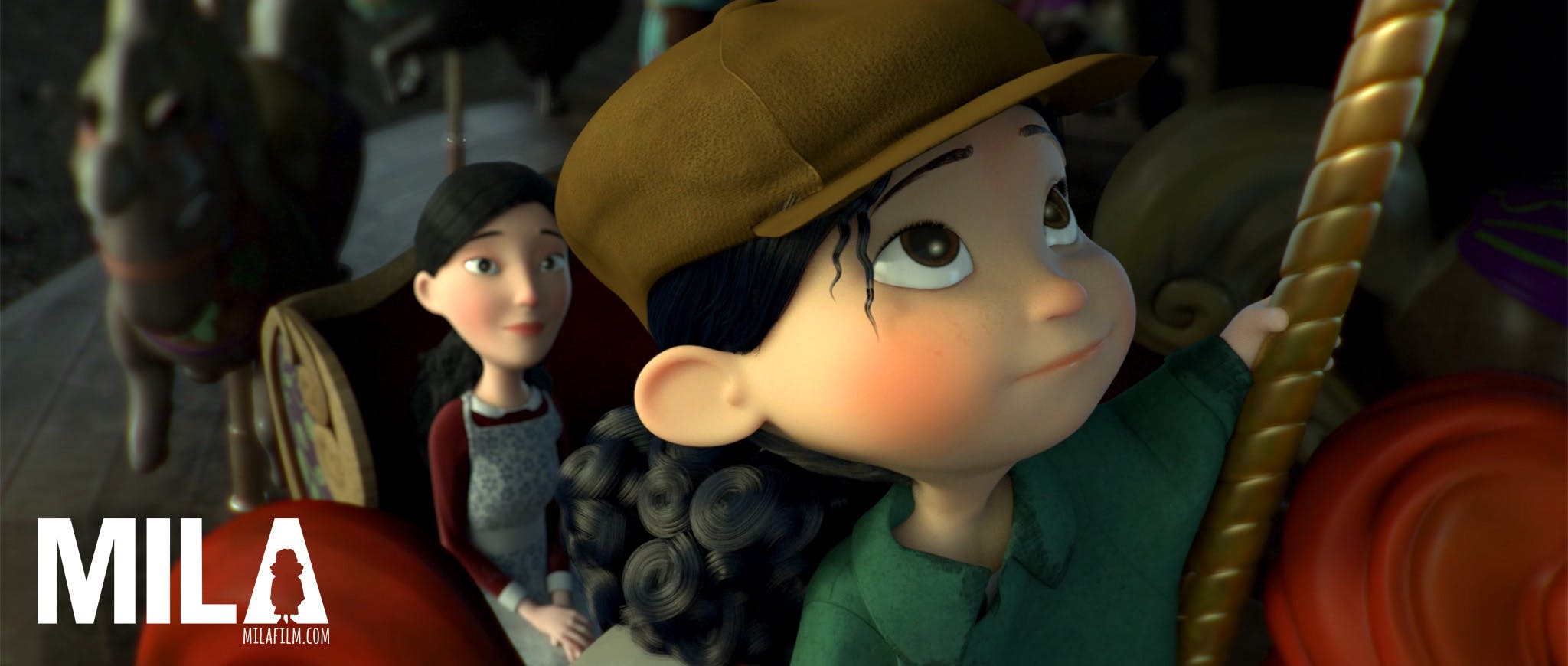 Production
Despite studying animation together at university, Cinzia's specialty has remained 2D, with Valerio honing the art of 3D Animation. The film's aesthetic is complemented by the two unique styles, demonstrating Hollywood-level CG while maintaining a stylized art direction that's unique for a 3D animation.
"I love 2D, it's my background, but when it came to the choice between 2D and 3D, I wanted the aesthetic to be as realistic as possible," explained Cinzia. "If you look at the character design, Mila is cartoony of course, but she also has a realistic feel."
The majority of the film's work – especially during the early stages of production – was completed at Valerio's Pixel Cartoon HQ. The studio is equipped with a suite of professional artist tools for 3D animation and VFX, but given the production was 10 years in the making, these changed over time. Autodesk Maya was used for the initial CG simulations, such as explosions, before the studio acquired a sponsorship when the team transitioned to SideFX Houdini. Foundry's Nuke was used for compositing and the Animation supervisors then worked with Autodesk Shotgun for production tracking.
The financial cost and time required to render shots became a difficult task for Valerio's studio hardware and he sought a render management solution to streamline production. Thankfully, Deadline integrates seamlessly with the content creation tools being used and slotted straight into the studio's on-premises pipeline.
"We discovered Deadline around 2013, and after an initial period of testing on Mila, we asked for a sponsorship from the company. After seeing our production and positive message, they were inspired to give us the sponsorship and from that point on, we used Deadline on Mila for all of our renderings," said Valerio.
Deadline can be used at varying levels of CPU capacity, managing large, dedicated render farms, and smaller independent setups to the same degree. Having less rendering capacity by no means simplifies the rendering process, as Valerio discovered: "We're small here at Pixel Cartoon, we had just 10 machines to render the film with. Some were dedicated to rendering only, and some were workstations for artists, becoming rendering stations during the night." 
"What we found very useful in Deadline was its time-saving capabilities – before using Deadline we had so many rendering problems because we continued experimenting with shots and styles. We had a lot to render! Saving time means saving money, and since we didn't have lots of money – it was really useful," explained Valerio.
"All of the film's rendering was at Pixel Cartoon at the beginning, with over one-third of the film rendered in our studio using Deadline. Without Deadline, we would have had so many problems," continued Valerio. 
Global Workforce
As more artists and studios became interested in supporting the Mila project, Valerio's role became increasingly complex, supervising shots from multiple studios and artists all over the world. Organizing 350 artists across 35 countries is no easy feat. "We connected with artists over social media channels like Facebook and Instagram. These platforms provided us with access to lots of technical artists and people. Many of the artists involved in the project were students and we had to manage multiple time zones – sometimes we'd wake up with over 100 emails exchanged overnight!" said Valerio. 
But large teams in different time zones come with their own unique perks: "The good thing about remote work is that if you plan well and you have artists spread around the globe, you can actually work over a far greater number of hours. Cinesite, one of the studios that supported the project, has studios in Vancouver, London, and Montreal. They utilize the time-zone advantage to work really effectively. The team at Cinesite was really fundamental in taking Mila across the final line," explained Cinzia.
What's next?
Mila is planned for a winter/early spring release in 2021, with film festivals being Cinzia's main goal, "We've always wanted to bring this to the big screen and show it to as many people as possible. I'm so glad that we are almost ready to release and present the film to the world at some upcoming festivals."
Make sure you check out the official Mila website.