INFINITE POSSIBILITIES FOR INFINITUS HEADQUARTERS
Image Courtesy Minmud
Minmud is a leading art agency that believes quality products are derived from traditional artistic processes, producing highly detailed 2D and 3D assets. Working with the mediums of photography and film, the team create exceptional visualizations for large infrastructure projects. As a small, specialist studio based in heart of London, Minmud most often work with architects, property developers, digital agencies and designers.
The team specializes in presenting concept designs for mixed-use developments, airports, cultural buildings and more. "We get to take part in some really exciting, conceptual stuff," says Joshua Newman, Creative Director at Minmud.
INFINITUS HEADQUARTERS
Minmud was recently brought in on yet another landmark project. Approached by architects at Zaha Hadid, the Minmud team were tasked with creating conceptual renders based off supplied architectural models. These renders would then be submitted to the competition stage of a big business development – the Infinitus Headquarters in Guangzhou China.
Designs for the 167,000 square-meter complex consisted of two eight-story buildings connected by tree-covered sky bridges, inspired by the looping infinity symbol used in mathematics. This would be a new home for a number of Infinitus' key facilities, including its new global research and development center for herbal medicines. Image specifications were intricately detailed, pressuring Minmud to maintain incredible attention to detail.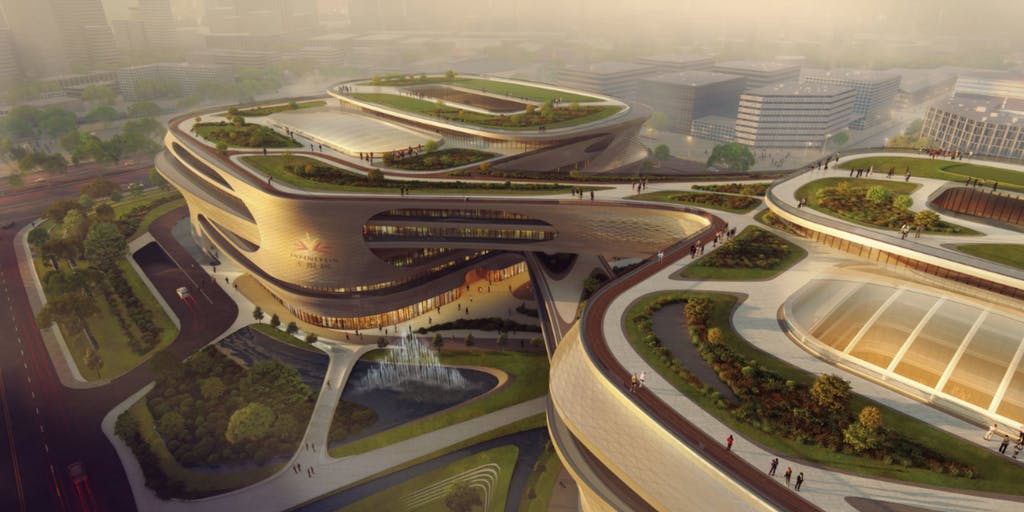 RENDERING AT 17,000 PIXELS WIDE
However, there was another challenge for Minmud on the horizon. Prints for the Infinitus Headquarters ground-breaking ceremony were set six meters wide, at 72DPI, which meant the team had to render images at a massive resolution of 144.5 megapixels.
"To be able to render something like that was quite a technical challenge," explains Newman. "Infinitus spoke to their marketing team and came back with a staggering spec, then asked if we could match that. It posed problems for us because it would work out at a tremendous 17,000 pixels wide!"
"Deadline has become integral to the team's workflow"
Typically, when printing an image that large, the audience will be viewing it from fairly far away. Therefore, studios can afford to produce that image at a much lower resolution. However, at the Infinitus groundbreaking ceremony, viewers would be situated both close-by and at a distance.
"The way we overcame the resolution demands was by using Deadline's Jigsaw rendering," says Newman. "When we attempted to render on just one machine, we couldn't do it because of the massive amounts of memory required. That's definitely something that Deadline helped us with."
The Jigsaw tool for Deadline is capable of splitting up large image frames into reasonably-sized chunks, or 'tiles'. These tiles could then be re-distributed across Minmud's render farm, making more efficient use of the resources available. Using this method, rendering will finish at a much faster rate, before tiles are automatically assembled into a final image using Draft.
NO TIME FOR TRIVIALITIES
Minmud has been using Thinkbox's Draft program for image automation, seamlessly integrated with Deadline to do post-processing on renders. Thanks to Deadline's Draft application, Minmud artists can dive right into work, without having to set aside time for menial preparations. As Newman explains:
"Draft will do simple things such as automatically adding titles to images and animations in preparation to sending to clients, and it will also do more complicated things such as naming and organizing EXR layers in preparation for further scripts and post-production."
A lightweight compositing and video processing tool, Draft essentially streamlines the Minmud pipeline, meaning there's more time spent making art, and less time meandering around files.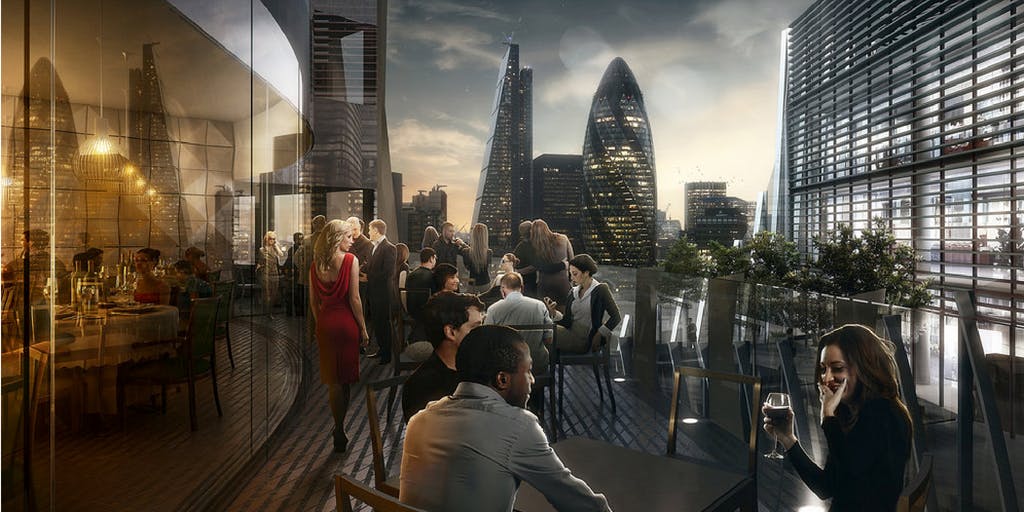 DEADLINE'S CAPACITY FOR CLOUD RENDERING
It wasn't long before Minmud realized the potential of tools available to help them power up.
Minmud armed themselves with usage-based license hours of The Foundry's NUKE and Deadline to increase their Nuke rendering capabilities in the studio during peak times.
Additionally, the team are working towards their own cloud-based render farm using Autodesk 3ds Max with Deadline Workers licensed under a usage basis, so that they can scale up as needed.
"The idea is to use UBL instead of investing in on-site render nodes, which may otherwise be idle during quiet times," says Newman.
TRIED AND TESTED
Over the last four years or so, Deadline has contributed to many of Minmud's most successful competitions to date. This includes visuals for the 2013 Tokyo Olympic stadium, The Dubai Creek masterplan and Santiago Calatrava's Observation tower. Joshua Newman maintains that "Deadline has become integral to the team's workflow."