Griffith Observatory enlists Deadline to deliver "Signs of Life"
Ambitious VFX pipeline used Deadline to manage and render 244 3D assets and more than 120,000 frames of animation for "Signs of Life"
An iconic Los Angeles destination, Griffith Observatory draws millions of visitors to its grounds each year for its sweeping skyline views and astronomical pursuits. Self-described as "Southern California's gateway to the cosmos," the Observatory features the impressive 290-seat Samuel Oschin Planetarium dome theater, which presents up to 10 science-focused shows a day. Each one is brought to life with a sophisticated digital projection system, including a Zeiss star projector, and is narrated live by an engaging storyteller.
In June 2020, the planetarium is set to debut its first new big show in 13 years, Signs of Life, produced by non-profit Friends Of The Observatory (FOTO) and the City of Los Angeles Department of Recreation and Parks and Griffith Observatory. The nearly 35-minute full-CG project incorporates artistic elements, and delivers an emotional cinematic experience - albeit one still firmly rooted in science.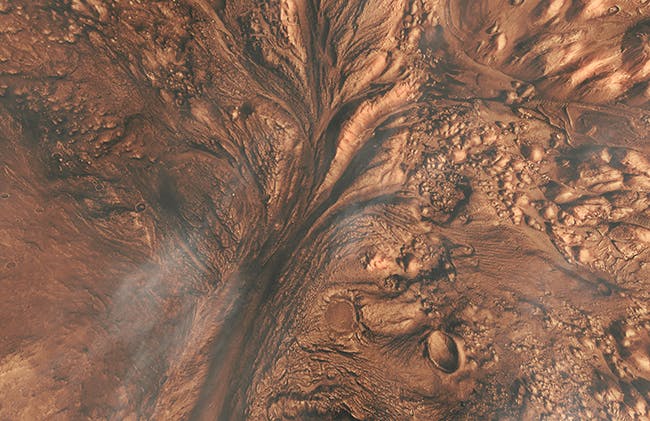 Many of the Signs of Life producers and artists come from the visual effects world, and their experiences strongly influenced the production team's decision to build a plug-and-play pipeline using industry-standard, interoperable VFX tools to streamline the content creation process. As a result, the ambitious studio pipeline build and show was realized in under three years by a small 25-person team using almost entirely off-the-shelf software, including Autodesk's Maya, Arnold, and Shotgun; SideFX Software's Houdini and Mantra; Pixologic's ZBrush; Adobe's Substance Designer; AWS Thinkbox's Deadline; and Foundry's Nuke.
"This project is a dream for me. It's the story of life in the universe; a reciprocal relationship between art and science only made possible by combining the talents of our VFX pros and the knowledge of space and astronomy experts," says producer Dawn Fidrick, who oversees the project with producer/director Bob Niemack, art director/director Don Dixon, and VFX supervisor Gee Yeung. "By far the scariest aspect of the project was determining a workflow that could support the huge amounts of data that we were going to be generating. With this in mind, we incorporated a standard production pipeline and established efficiency procedures, like being very selective on when to do full-res renders."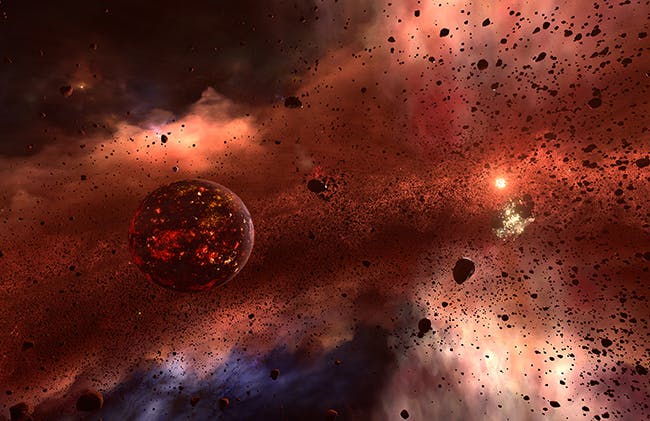 Signs of Life was created in 8K resolution at 60 frames per second and with a 180-degree fish-eye lens aesthetic for display on the Observatory's 76-foot immersive dome. The 8124x8124 dome master is sliced to be shown from six Christie Boxer projectors that beam a total of 24 channels onto the dome. Beyond significant data considerations, production also had to navigate issues inherent to the dome format, including adjusting for cross-bounce lighting, timing animation for large-scale display (to avoid inducing motion sickness), and mitigating the image distortion that results during close-ups with a fish-eye lens.
Surprisingly, all the work for Signs of Life was done on-site by the Observatory. A purpose-built facility, the Griffith Observatory Satellite studio was established in an existing building ahead of production. Observatory director Dr. E.C. Krupp, curator Dr. Laura Danly, and art director Don Dixon developed the project's script over several years with input from scientists from NASA, JPL, Harvard Medical School, Caltech, and the Natural History Museum in Los Angeles County.
Once the script was near-final, additional space was built adjacent to the studio to house infrastructure. Dubbed the "Mini Moon," it features an augmented electricity and air-conditioning supply to keep the team's 128-blade renderfarm and back-up drives running around the clock. This setup facilitated a more fluid feedback loop between artists and Observatory experts.
By opting to leverage standard content creation and pipeline management tools, Fidrick and her team are able to capitalize on the solution's built-in functionality. It has also accelerated artist on-ramp, as most are already familiar with the tools. These efficiencies have been instrumental in realizing an extraordinarily advanced production with far fewer resources than a traditional commercial project.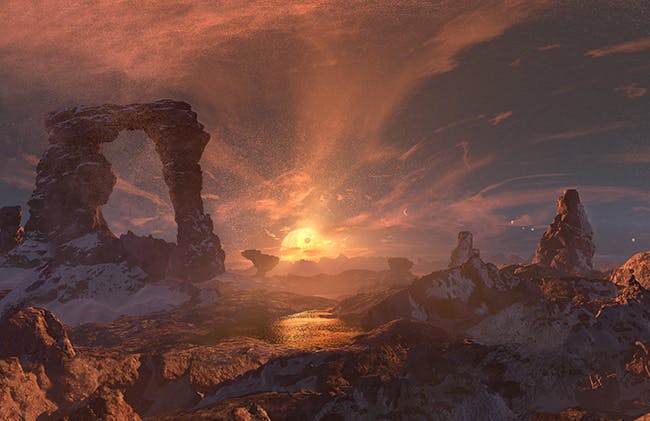 "We were looking to manage and render a ton of pixels with only two dedicated technical personnel, so we wanted to take advantage of what had already been done development-wise. We built our pipeline around Shotgun, and then looked at partner technology that we could easily hook into. Deadline was the fastest and easiest to use, and, with its cloud-compatibility, it was a no-brainer," Fidrick says.
While working in Griffith Park is beneficial to the project (and picturesque), the studio has not yet been outfitted with advanced fiber connectivity. Fidrick explains, "We've made do with satellite internet for the time being but look forward to being able to scale up with the cloud on AWS. Having Deadline already in place means we're well-positioned to easily augment our on-premises resources with cloud elasticity. Our render wrangler is always asking for more blades, so I'm excited to get that piece in place for future endeavors."
Niemack adds, "Bringing this project to life has been very educational in terms of pipeline and workflow. For the most part, our tools have continued to perform as expected, but there's been a big industry shift in terms of rendering. When we built our render farm in 2017 with an initial 36 blades, cloud-based resources were not a consideration. Over the course of production, we've had to keep adding hardware, which comes with an expiration date. I don't have any regrets, but there's definitely another way to go, and I think we're going to keep moving in that direction."
Signs of Life features 244 3D assets and comprises 46 shots totalling more than 120,000 frames of animation.
For more information on the Griffith Observatory Samuel Oschin Planetarium, including upcoming Signs of Life showings starting in June 2020, visit their website.