Axis Studios Gains Resource Flexibility with AWS
A Discovery of Witches (Image courtesy of Sky One)
Fusing artistry with technology, award-winning animation and visual effects company Axis Studios creates commissioned and original content across film, television, games, and entertainment experiences. Founded in 2000, the studio now spans three facilities – Glasgow, Bristol and London. As the studio's projects began increasing in complexity, it looked to Amazon Web Services (AWS) to help enable more flexible content production.
"Our on-premises compute capacity is not insignificant. We've been able to handle a number of shows simultaneously and turn over shots quickly, but we found ourselves continually running at full pelt, which led us to AWS," noted Jamie Murray, Axis Studios Pipeline TD.
"We got to the point where our render capacity was hit, and we turned to the cloud to get us through those unusual peaks," added Matt Hooker, Axis Studios Pipeline and R&D Department Manager. "The AWS team was very hands on in getting us up and running, and helped us navigate areas of uncertainty. Now that we're integrated with AWS, we've changed the way we think about rendering and can take on projects that would have otherwise proven challenging."
Axis Studios has been experimenting with cloud-based resources for a few years, leveraging AWS Portal in Deadline, the render management tool developed by AWS Thinkbox that the studio uses to manage compute resources across Glasgow, Bristol, and on AWS. Requiring a more robust deployment, Hooker and his team began looking at integrating the AWS public cloud more deeply at the start of 2019. By the end of the year, the setup was production-ready, which ended up being fortunate timing. "We had a very high-profile project come through late last year requiring photoreal, FX-heavy work on an ambitious timeline," Hooker explained. "It was a great opportunity to use AWS and ended up as a big success. We really benefited from the power of the cloud, and the AWS team was hugely helpful."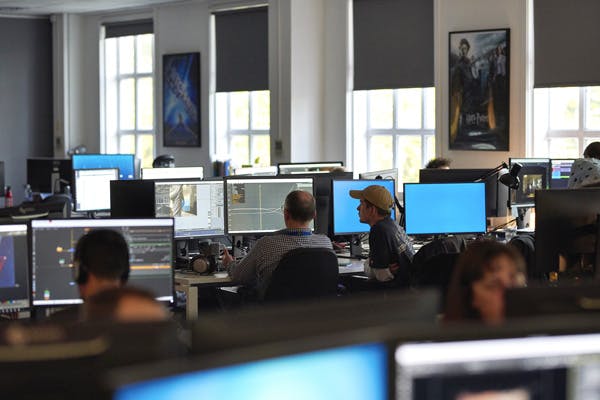 Emboldened by that success, Axis Studios is continuing to leverage AWS, most recently for the second season of fan-favorite Sky Original drama series, "A Discovery of Witches." Artists delivered shots for all ten episodes of the season, working on much of it remotely. The team tapped a range of instance types, including Amazon Elastic Compute Cloud (EC2) Spot Instances for low cost rendering, and on-demand instances for other tasks. At the peak of production, Axis Studios scaled resources to 2.4x its on-premises capacity with AWS. Using Deadline, the studio transferred jobs from the artists to the cloud, where files were inspected and pushed across Axis Studios' VPN to Amazon FSx. Once the transfer finished, the render job went live, spinning up a Spot fleet. When complete, Deadline returned the frames to the artist and the Spot fleet spun down.
"We're generally targeting CPU-focused instances, like C5, and have even used some hefty z1ds, which are quite epic, but we target a broad diversity of instance classes in order to minimize any disruption to rendering. We did a lot of benchmarking across instances for 'A Discovery of Witches' in order to find the right balance between core amount and cost, and found 48 cores to be our sweet spot for rendering Arnold frames. From there we tuned our instance type selection based on availability," noted Murray.
Despite the challenges facing the industry with slowed production, Axis Studios is busier than ever and growing, with over 300 artists company-wide. "Virtual workstations are the next logical step for us in growing the studio while maintaining security and an enjoyable artist experience. Though we haven't made the leap yet, we're heading that direction. We've also been linking up with the Amazon FSx teams, and see a lot of potential for growth with AWS," said Hooker. "We've been scoping future projects that would require specialized kit, like a 27K render. Rather than invest in a rack of equipment to get the RAM we'd need, we can scale with AWS."
The creative applications used by Axis Studios artists depend on their individual preference and the project at hand, though Autodesk solutions, including Maya, 3ds Max and Arnold, are common staples, as are SideFX's Houdini, Foundry's Nuke and Mari, and Pixologic's ZBrush. From an artistic perspective, the way that their team works has improved since adopting AWS, as they can iterate more quickly before shots are final, which helps elevate the end result. For producers, having the ability to scale with AWS has enabled further flexibility, leaning into cloud rendering for planned top-ups or unusual spikes.
"We aim to accommodate our artists, and having access to the computing capacity of AWS helps us continue that mantra since they can work more flexibly," concluded Hooker. "As we tighten integrations and develop more sophisticated cloud templates on AWS, we can also be more strategic in our approach to projects, and know that we're in safe hands. With current global events, the future is something of an open book that requires keeping pace with the technology, staying flexible, and always leaning into the best technical solution for the problem or opportunity at hand."