New Application Support in Deadline 9
Version: Deadline 9.0
Spring has arrived, and with it comes an exciting new set of application support for Deadline 9!
INNOBRIGHT ALTUS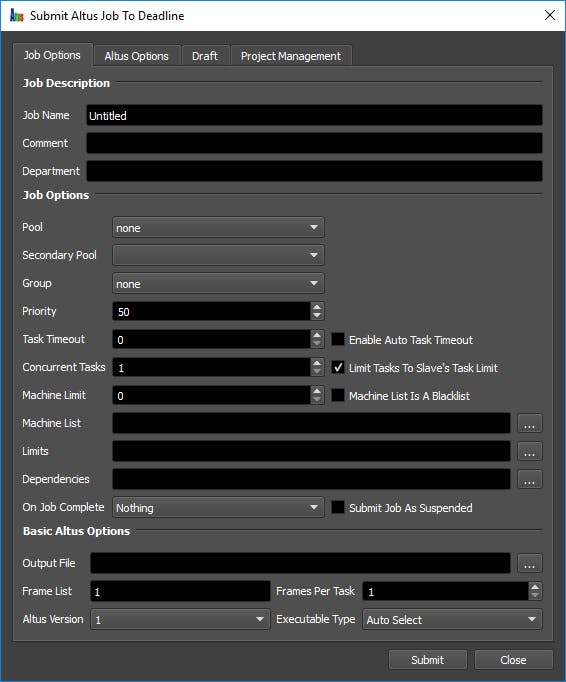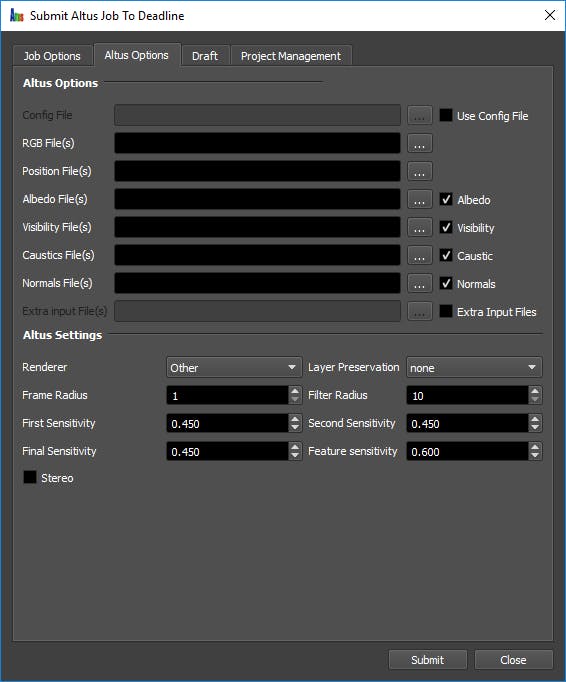 Deadline now supports Innobright's new Altus application. Altus is a denoising application that enables artists to easily and efficiently clean up noise from any Monte Carlo-based raytracer images. Deadline 9 now supports distributing denoising using Altus over many machines. Deadline can denoise frame sequences and individual image layers in parallel across an entire render farm. It even allows users to tweak the denoising settings directly from the Deadline Monitor and allow users to submit previously rendered frames as an Altus denoise job.
See the Altus section in the Deadline documentation for more information.
MAXON CINEBENCH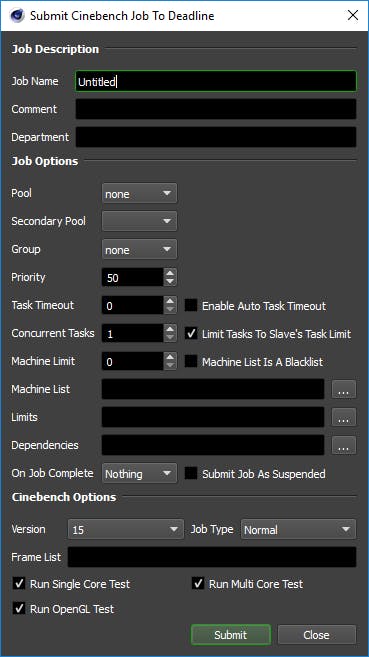 Deadline now includes support for MAXON's Cinebench software. Cinebench is a robust benchmarking tool that allows users to compare CPU and GPU hardware performance over any number of platforms and systems. Deadline 9's integration of Cinebench allows users to submit benchmark jobs using the Deadline Monitor. It also allows users to configure various Cinebench options directly from the Deadline Monitor. Once submitted, Deadline distributes these benchmark tasks over a render farm and can provide benchmark results of hardware performance across many machines.
See the Cinebench section in the Deadline documentation for more information.
LUXION KEYSHOT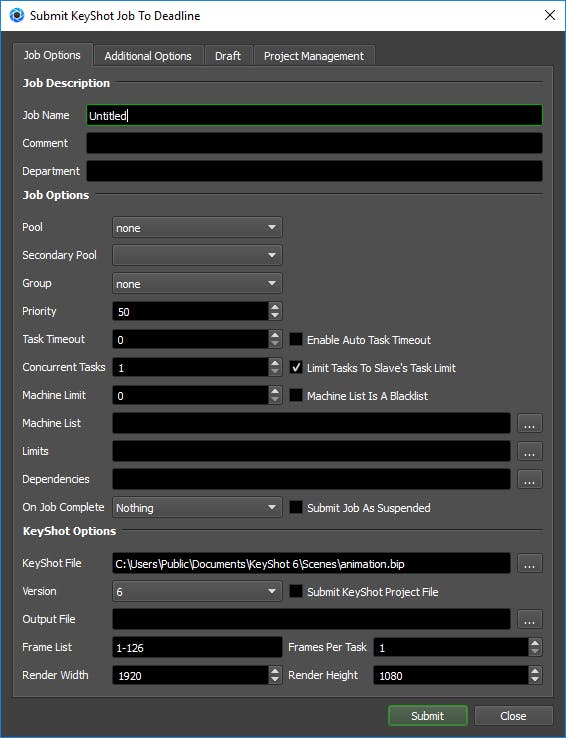 Newly added in Deadline 9 is support for KeyShot. KeyShot is a standalone 3D content creation application and all-in-one solution to create stunning animations and renders. Deadline has full support for distributing KeyShot rendering and animation tasks across your render farm. Deadline is also fully integrated into KeyShot and provides an in-application submission dialog to allow users to send their work to the render farm without ever leaving the KeyShot application. Deadline also integrates Keyshot with project management software such as Shotgun, FTrack, and NIM. Deadline's KeyShot support also seamlessly integrates with Draft (Deadline's plugin for automating deliverables), allowing automated compositing and video encoding of KeyShot renders directly from Deadline.
See the KeyShot section in the Deadline documentation for more information.
TELESTREAM EPISODE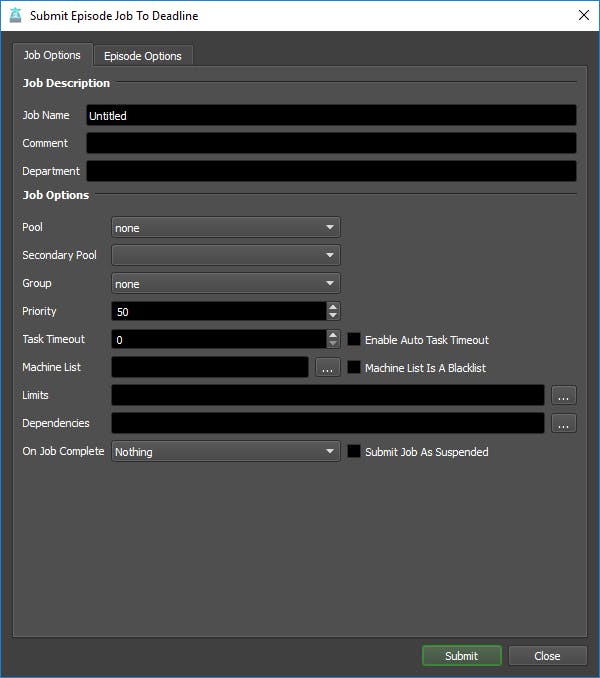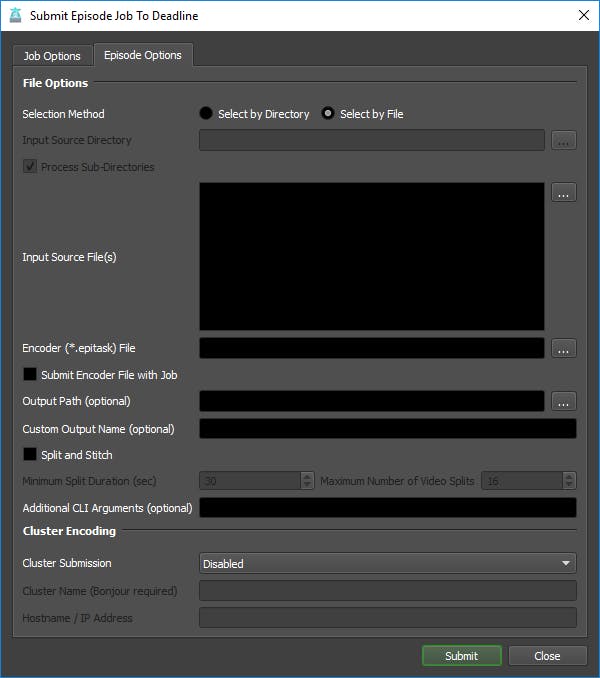 Telestream Episode is a powerful transcoding application that can read and write a large number of formats. Deadline 9 includes support for Episode, allowing users to split up transcoding jobs across their network render farm. The Deadline Monitor allows users to easily submit transcoding jobs and allows users to set and modify the transcoding parameters directly from the Monitor user interface.
See the Episode section in the Deadline documentation for more information.
SILHOUETTE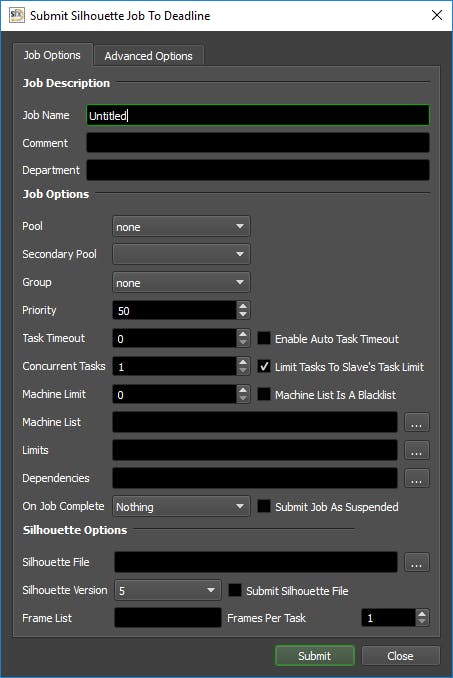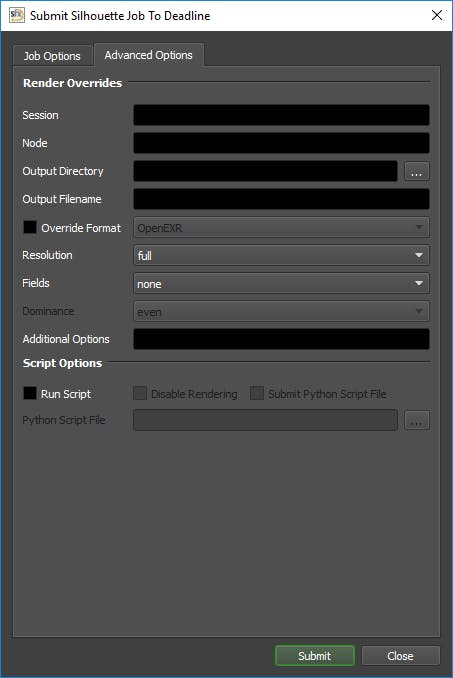 Deadline 9 now includes support for the flagship GPU compositing system by Silhouette FX. Silhouette is a production-proven, fully-featured compositing application that specializes in rotoscoping and non-destructive painting operations. Deadline allows Silhouette users to free up their artist workstations by splitting up compositing sequences and processing them across the Deadline render farm. Deadline's in-Monitor submitter allows users to specify various Silhouette parameters and output paths. Deadline also provides cross-platform workflows which allow users to submit Silhouette tasks across a combination of machines running Windows, Mac OS X, or Linux.
See the Silhouette section in the Deadline documentation for more information.
KOLOR AUTOPANO VIDEO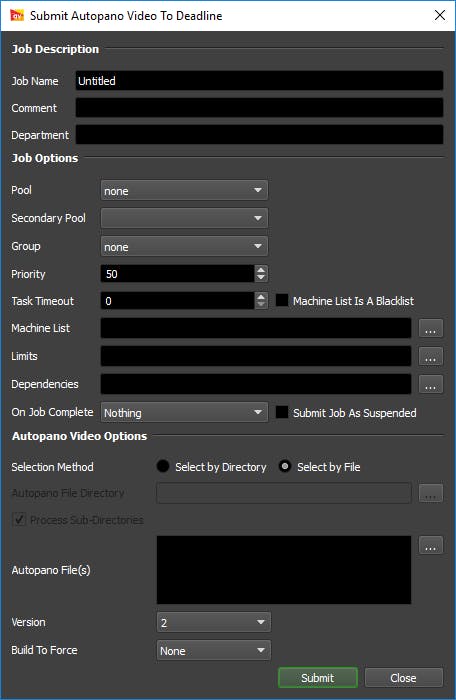 Autopano Video provides the latest in panoramic image stitching technology. It allows users to simply and efficiently input individual images and provide fully panoramic output. Since the image stitching process is computationally intensive, users can benefit from offloading the processing onto a render farm. Deadline 9 now allows users to do just that using Deadline's in-Monitor submitter. Processing of Autopano Video results can be run on a farm of mixed operating systems. Running Autopano Video on Windows, Mac OS X, and Linux are all supported by Deadline.
See the Autopano Video section in the Deadline documentation for more information.
REDSHIFT STANDALONE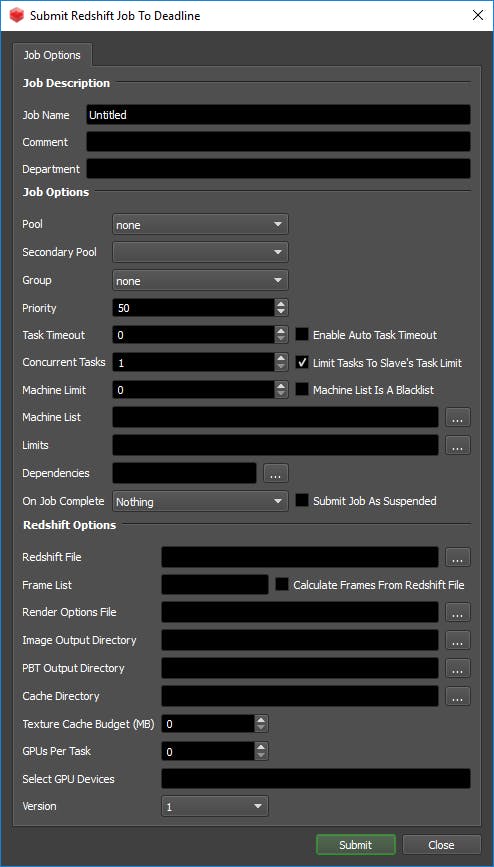 Redshift was already well supported in Deadline through a variety of applications like Maya and 3ds Max. Deadline 9 now introduces a new level of support for Redshift, allowing users to submit Redshift 'standalone' jobs directly to Deadline without needing to go through the host application. This allows Deadline users to distribute Redshift renders to a render farm from pre-exported Redshift source sequences. Our Redshift 'standalone' support is just one more way that Deadline is working to support all styles of rendering workflows.
See the Redshift Standalone section in the Deadline documentation for more information.
IMPROVEMENTS TO EXISTING APPLICATION SUPPORT
In addition to all the above, Deadline keeps adding support for new workflows, and the latest versions and updated features of all our existing supported applications. Deadline 9 now adds support for Clarisse's CNode, Composite 2017, Corona 1.4 and 1.5, Episode, KeyShot, Media Encoder 2017, Microstation CONNECT, Redshift for Houdini, Redshift Standalone, Silhouette, SketchUp 2017, V-Ray's vdenoise, and the latest VRED 2017 versions.
Additionally, Deadline 9 also supports V-Ray DBR for modo and Rhino 5. The 3ds Max 'Cmd' plugin now supports Dynamic V-Ray DBR offloading, and a V-Ray standalone submitter has been added for NUKE. Jigsaw rendering for Redshift for Maya and Tile rendering for Cinema 4D and VRED have also added. Redshift exporting from Maya is now supported, and Houdini RenderMan exports are supported as well.