Monitor Render Node Performance
Version: Deadline 9.0 and later
JUST A ROUTINE CHECKUP
To make the best use of your available compute resources for rendering, it can be beneficial to determine which render nodes perform the best and, if any, perform below expectations. By using Deadline in conjunction with MAXON ® Cinebench ®, we can make a good approximation of individual render nodes performance across your farm!
WHAT KIND OF CHECKUP IS THIS‽
There's two different ways that you can run Cinebench on the render nodes in your farm, a 'Normal' job and a 'Maintenance' job. Both of these have the standard Deadline job options, so we'll only talk about the Cinebench specific options and how they apply to benchmarking. Refer to the Job Submission documentation for information on general submission options.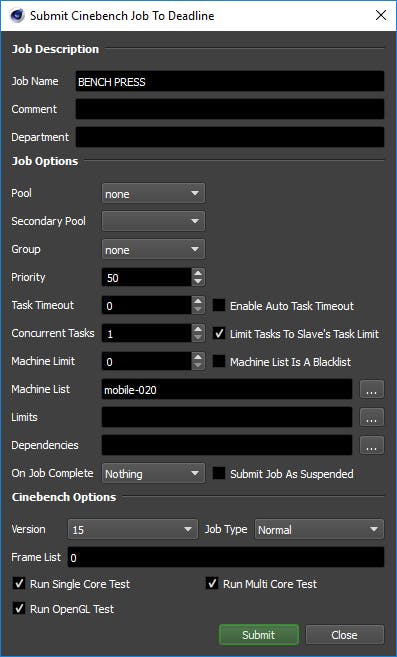 A 'Normal' job is best used when you only wish to benchmark a few render nodes. You specify a frame range equal to the number of render nodes you wish to benchmark, and combine that with Groups or a Machine List to specify which ones to check.

A 'Maintenance' job differs in that it's a special job type that creates a task for each render node in your farm. A render node will also only render one task from this job and leave the job alone afterwards. Using this, you don't need to specify a frame range or worry about a render node doing the benchmark more than once, or not at all.

Refer to the Maintenance Jobs documentation for more information.
NOW STICK OUT YOUR TONGUE AND SAY AHHHH
With Cinebench, there's three different flavours of tests that you can run through Deadline:
OpenGL
Single-Core CPU
Multi-Core CPU

The names of the tests are pretty self-explanatory; OpenGL will test the render node's graphics capabilities and Multi/Single-Core CPU will push the CPU to its limit in a threaded and non-threaded environment. If you're looking to test one specific aspect of your render node you can enable individual tests, but if you want to test everything then leave them all enabled. Refer to MAXON's website for more information.
GIVE IT TO ME STRAIGHT, DOC
To find the results of the benchmark, you can either look at the job's logs, or navigate to the Cinebench installation folder on each render node and look in the "cb_ranking" folder for the associated file containing your results (ie. "C:\Program Files\MAXON\Cinebench R15\cb_ranking"). This can potentially be automated by creating an Event Plugin, or a Monitor right-click script that looks through the job's log files and aggregates the results, but we'll be exploring those solutions at a later date.
The good news is that's all there really is to benchmarking your render nodes, so what you do from here is up to you. An effective use of the aggregate data would be to create Groups based around these results. This way, if you know a render is going to make your render nodes hurt, or you need a render as fast as possible, you can assign your powerhouses to alleviate some of the pain.
You can find additional information about Deadline's Cinebench support, including plugin configuration, in the Cinebench plugin documentation.
MAXON and Cinebench are registered trademarks or trademarks of MAXON Computer GmbH in Germany and/or other countries.