Distributing Microstation Workflows with Deadline
Version: Deadline 7.2
OVERVIEW
Microstation is a high quality CAD software tool that allows users to design and render professional-quality models for architecture, engineering and construction (AEC). Microstation is also one of many third-party tools supported by Deadline out of the box.
This post will examine the various workflows available to you when using Deadline with Microstation, either via the integrated or Monitor submitters. All features are available in Deadline 7.2 and later, except where indicated.
Note that this blog post is not a rehash of our Microstation Documentation. This is instead a brief overview of the different tasks available in our Microstation submitters. We will look at screenshots of the different supported workflows and examine how these workflows are used.
STARTING UP
Before diving into the different tools available in a Deadline-Microstation workflow, we have to take a look at the submitters themselves. On Microstation, hover your mouse over the Utilties dropdown. Move to the Render submenu and select "Submit to Deadline" at the bottom. In Deadline itself, the Microstation Monitor submitter can be found under Submit -> AEC -> Microstation.
STICKY AND DEFAULT SETTINGS
It is important to note that all the settings examined in this blog can be configured and saved by using the Sticky and Default settings in Microstation. These settings apply to the integrated submitter and can be managed in the Configuration option under the Workspace dropdown menu. This is a useful tool for ensuring the same initial submission settings are used by all members of your organization. More detailed discussion of sticky settings can also be found in the Microstation Documentation.
SUPPORTED WORKFLOWS
There are 6 different workflows available when submitting a Microstation Job to Deadline:
Animation Render
Single View Render
Save Multiple Images
File Export
Print
Script Job (Deadline 8 only)
We will look at some screenshots of each of these workflows in action and discuss expected results. For the purpose of this blog post, the integrated submitter will be used as an example. All of these workflows work the exact same way in the Microstation Monitor submitter.
ANIMATION RENDER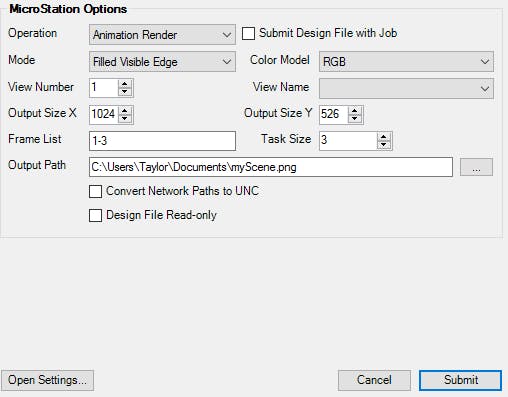 Animation Render workflows are used to render one or more frames from a Microstation DGN scene. This is a useful tool for rendering scenes with moving parts. A single camera is used to render scenes from this workflow. Note that all of the settings in this workflow aside from "Mode" (which simply chooses the style of rendering to perform) are standard to most rendering software. Color Model, View Selection, Output Size, Framelist and Task Size are all settings you will have been exposed to in a basic rendering workflow.
SINGLE VIEW RENDER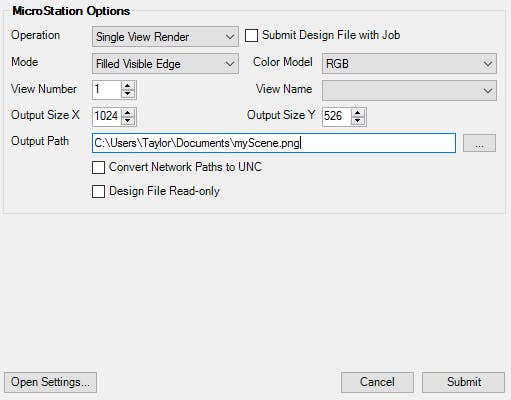 Single View Render workflows are used to render only a single frame from a Microstation DGN scene. This is more useful for rendering non-animated scenes, also with a single camera-view. Again, this workflow will be intuitive for any reader who has some experience with rendering software.
SAVE MULTIPLE IMAGES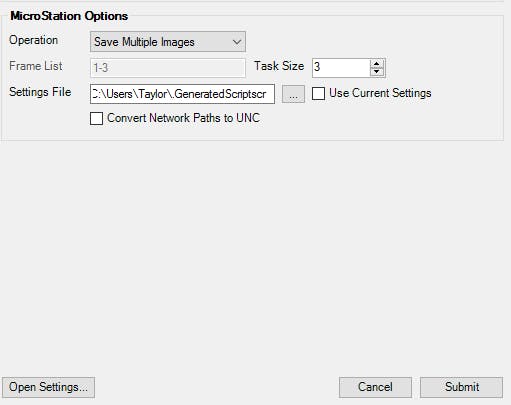 Save Multiple Images is very similar to batch rendering as a way to send multiple scenes to Deadline at one time. A .scr or .sm script must be specified to run a Save Multiple Images job. You can create a new Save Multiple Images script by selecting Utilities -> Image -> Save Multiple in the Microstation menus. All scenes specified in the script will be saved as one of many possible image formats in a directory of your choice.
FILE EXPORT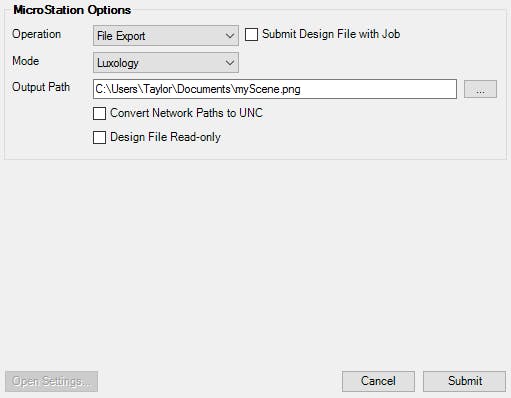 File export workflows are used to export/convert a Microstation scene to one of many renderable scene formats. This allows Microstation scenes to be transferred to scenes recognizable by different software tools. Scenes can be exported to .ixo (Luxology Modo), .dwg/.dxg (Autodesk AutoCAD), .sat (3D ACIS Modeler), .hln (Microstation Visible Edges), or .dgn (Microstation Design Format).
PRINT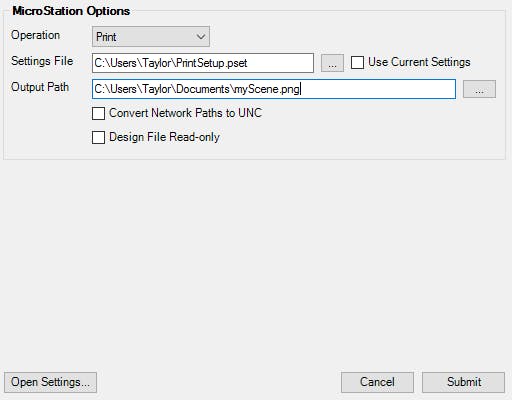 The Print workflow allows a Microstation scene to be sent to a PDF Writer or a physical printer. This workflow will render the Microstation scene before sending it to a PDF or our mortal realm.
SCRIPT JOB (DEADLINE 8 ONLY)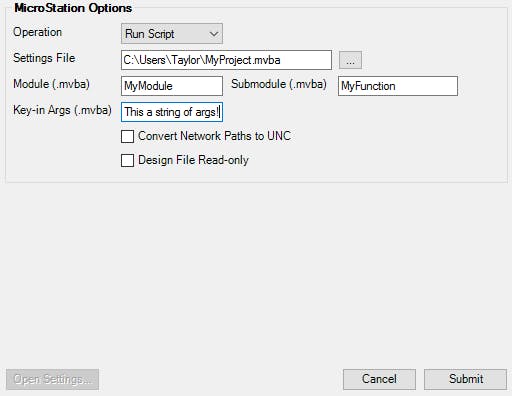 A Script Job workflow will run a Microstation MVBA or Key-in Script against a given Microstation DGN scene. A Key-in Script can be specified with .txt or .scr extensions. MVBA Scripts (specified with .mvba) must also be accompanied by the Module and Sub to be run by Microstation. MVBA Scripts can also take a string of key-in arguments, accessible in a Microstation VBA Module through the global variable KeyinArguments. Sending custom scripts to Deadline allows you to automate and customize more of your workflow when using Bentley Microstation with Deadline.
WRAPUP
These are the available workflows when using Microstation with Deadline. Microstation is an exceedingly powerful CAD software tool for two and three-dimensional design. With an understanding of Deadline's support for Microstation now in your toolbelt, you will be able to employ Deadline to use Microstation at a much more advanced level.